Personalized Aprons with Printed Photo
Create your own kids or adult apron here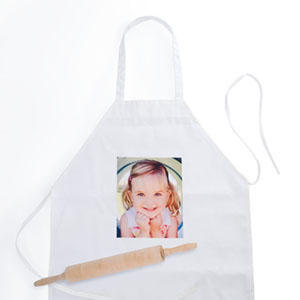 Fun and fantastic aprons to put images of your favorite chef onto.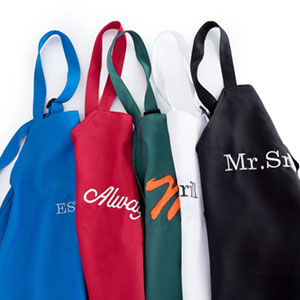 Personalize an apron and have names or initials embroidered in a color of your choice. The perfect gift for someone who loves to cook!
Apron Gift Set
(small & large)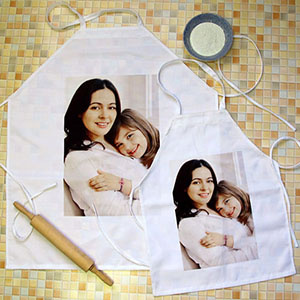 Choose our adult and kids matching apron gift set
or choose from our categorized designs to start personalizing:
Fun in the kitchen with photo aprons
If you're looking for a practical gift for a special person who loves whipping up delights in the kitchen or at garden barbeques, then our customized aprons just might be the perfect recipe. Give them something proud to wear or to show at the next dinner party or barbeque, plus keep them looking sharp and stylish with your own very unique apron design.
Kitchens can get messy but food and hygiene go hand-in-hand. The best color to symbolize kitchen hygiene is white, a color preferred by many top chefs around the world. Made with durable, stain resistant and easy-to-clean white polyester – our aprons are sure to be a welcome addition to passionate chefs.
With our easy-to-use online apron builder, all you need is one photo and perhaps 3 minutes of your time. So if it's time to show the chef in your life how much you appreciate their passion for food – give them an apron with a personalized photo and special message now!