Personalized Pet Tag
Print pet tag with your own photos and designs
Round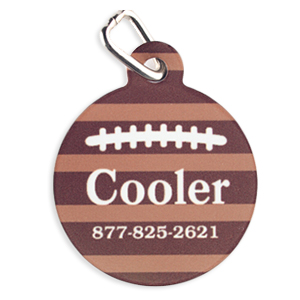 Classic round shape pet tag that is made from lightweight anodized aluminum, easy for your pet to wear.
Heart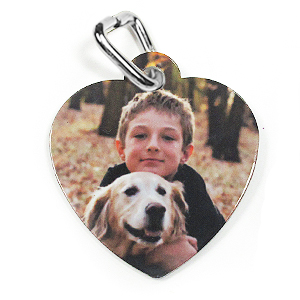 This loving and sweet heart shaped tag is a great way to show affection for your pet. Your pets image can be printed on one side while the other side shows information.
Bone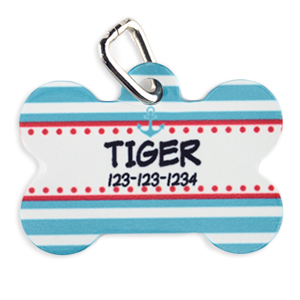 A bone shaped tag for your favorite four legged friend. The tag is made that is made in a solid one-piece construction so that there are no glued or separate parts that could wear out over time.
See categorized designs:
Custom pet Tag specifications:
For cats or dogs to keep your pet safe and secure.
Material: light weight but strong and extremely durable anodized aluminum.
Round: 1.25" diameter | Heart 1.25" x 1.375" | Bone: 1.5" x 1.125".
Includes nickel ring to attach ID tag securely to your pet's collar.
Print your pet's name; owner's name; address, city, state, and zip code; phone numbers; reward; medical; vet information.
For custom one side: Your design, photo or text will be printed in full color at the front, the back is blank aluminum for personal engraving option (not included).
For custom both sides: Your designs, photos or texts will be printed on both sides in full color.
Solid one-piece construction: No glued or "sandwiched" materials to wear out or fall apart.