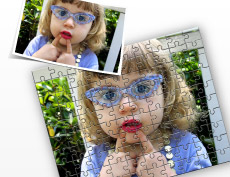 Gifts for kids puzzles
Choose a gift for kids puzzles to make:
Large piece jigsaws are interesting play and learn games for children and parents
Delight your kids with fun & educational photo jigsaw puzzles. See your kid's face light up when they complete the puzzle baring their printed photo. Our easy to use online builder to create 12 or 54 large puzzle pieces from a photo that you upload from your pc can be done in 1 minute. You could even get your kid to do it themselves to add extra fun & excitement to this personalized jigsaw puzzle game perfect for kids of all ages. Great low prices!